Bloomberg writer Anatoly Medetsky reported late last week that, "Long known for its oil and gas, Russia is now moving to retake leadership in the world wheat trade it last held when the Czars ruled. In the process, it's reshaping the market for one of the world's most important traded food products."
The article explained that, "From the Black Sea coast and the Volga River heartland to the sun-scorched steppes of Siberia, Russia's farm belt is enjoying a renaissance, with grain at the leading edge. Turbocharged by the 45 percent drop in the ruble against the dollar over the last few years and bumper crops, local producers are crowding into export markets long dominated by big western players.
"Last season, Russian topped the U.S. in wheat exports for the first time in decades and is expected to extend those gains to displace the EU from the top spot this year, according to the U.S. Department of Agriculture. Investors from local farmers to billionaire tycoons are pumping money into the business."
Medetsky added that, "Russian wheat has crowded out U.S. supplies in Egypt, the world's biggest buyer, and is gaining footholds in some other countries, such as Nigeria, Bangladesh and Indonesia. That's four decades after the Soviet Union turned to U.S. shipments of wheat and corn to offset shortfalls in its own harvests. Over the last decade, Russia has been the biggest single source of growth in wheat exports, vital to meeting surging global demand."
"Farmers trace the roots of the rebound to the Kremlin's move a decade ago to allow land to be bought and sold freely. That set off a wave of investment in new equipment, fertilizers and expansion of farms into lands long left fallow. Government subsidies and the ruble devaluation, along with good weather, have added to harvests in recent years," the article said.
Graph From Bloomberg News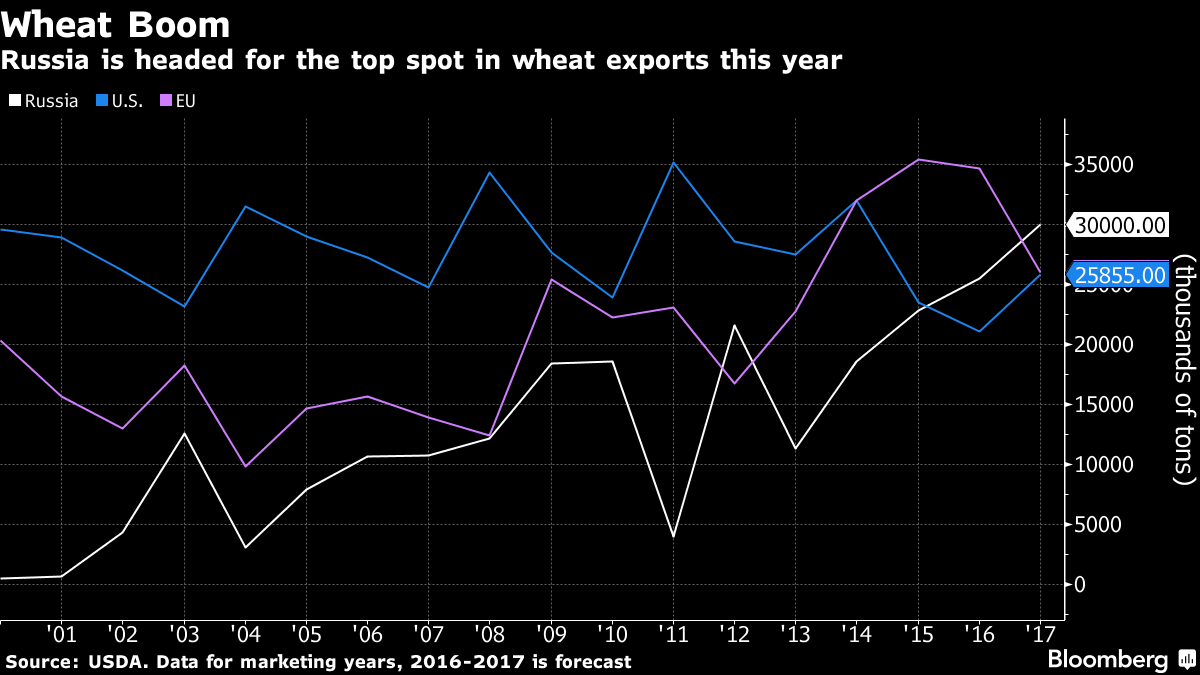 –kg